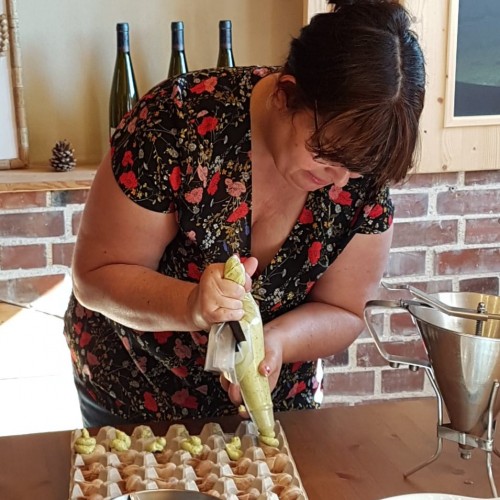 Cooking and tasting workshop with today's influencers.
Arrived in the afternoon at the estate, our blogger group started with the surprise workshop we had prepared for them: a cooking class where they would have the opportunity to learn how to prepare snails in Alsatian. Indeed, our group came from all over France, the opportunity to make a gastronomic break in the vineyard representing the most biodynamic wines!
Each in turn tries the preparation under the guidance of the Winstub Arnold cook.
Following a brief presentation of the field "Above all, biodynamics is a work of care of the earth, it is a question of ensuring the balance and to create harmonious living conditions between earth, plant and environment" because our hosts are far too excited to taste the sauerkraut that is right next to them. Occasionally during the meal we take the opportunity to present several of our cuvées: After a Crémant d'Alsace extra brut, Riesling will predominate (Granit 2017 and Grand Cru Frankstein 2016). We will end the meal with a Pinot Noir F 2016 that will delight our guests and act as a transition before the visit of the winery.
It is therefore with a glass of Pinot Noir that we will go for a cellar tour: the majority of explanations will be done in front of our menhir, where the history of our family and chai explain best. Interested, we will exchange with our guests on construction methods, biodynamics and our philosophy.
A beautiful moment of exchanges.